Services
We specialize in providing linux and open-source IT solutions and consulting for small businesses.
Please see our FAQ Who needs IT services?
Areas of Service
We offer general IT consultation for specific projects, as well as ongoing IT maintenance and management. In addition, we provide service in the following areas:
The Bleeding Edge
We can also provide private cloud infrastructure setups to allow for unified computer-resource management, using MAAS and OpenStack.
Windows Caveats
Many small businesses rely on proprietary equipment and software which was only designed to run on or with Microsoft Windows. In some cases there are open-source replacements or workarounds for these situations, but in many instances, unfortunately, there are not. This is always something to keep in mind when moving forward with a new equipment or software platform purchase—because once your business becomes reliant on the purchased item, you are locked-in to it and also its secondary (sometimes hidden) tools and platforms.
When purchasing new equipment and software, it's always good to take into account the following:
What dependencies does the equipment/software have? (e.g., operating system support and required third party tools.)
How long does the equipment/software guarantee support for its product? (e.g. bug fixes and security updates.)
Is the equipment/software standards-compliant? Many industries have standards, developed by committee, that define specifications for that industry. In the software realm, there are many standards for various fields, and these help insure that common formats are available (e.g. for a file type) and that no single company or entity can take control of the standards to write them in a way that benefits only themselves.
---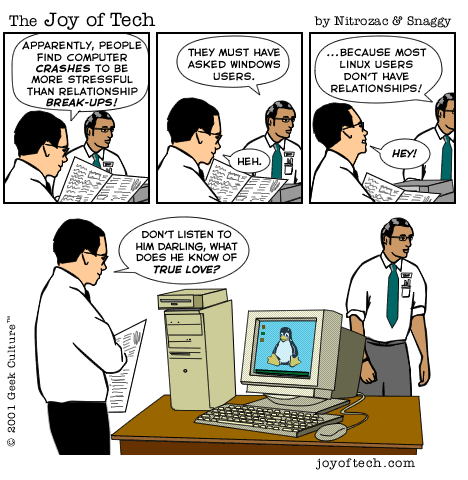 About Us
We are a small business in Central Oregon who's mission is to help other small businesses simplify and optimize their technology resources with linux and open-source software.
Brooks, the owner of Caiyos, is self-educated and has 18 years of experience working in the fields of IT and computer science with dozens of companies. Along with delivering professional service, he provides clear, understandable, and timely communication.
Whether I have a small question about how to do something in the latest distribution of Ubuntu Linux, need help with a large deployment project, or just want to discuss the most suitable open source application for a given set of business requirements, I know that I can count on Brooks's deep understanding of computing technologies and his exceptional professional services. Since 2001, ENLASO has been lucky to have Brooks as an invaluable resource for a myriad of large and small IT projects. His thoughtful approach to technical issues, expert IT knowledge, and grasp of emerging technologies helps us solve complex technical issues at ENLASO.

I offer my highest possible recommendation for Brooks's services to any business owner who is seeking a trustworthy liaison to information technologies.

Max Zavorotny, IS Manager at ENLASO Corporation